What's New at the Owen Legacy Group
2022 Q3 Edition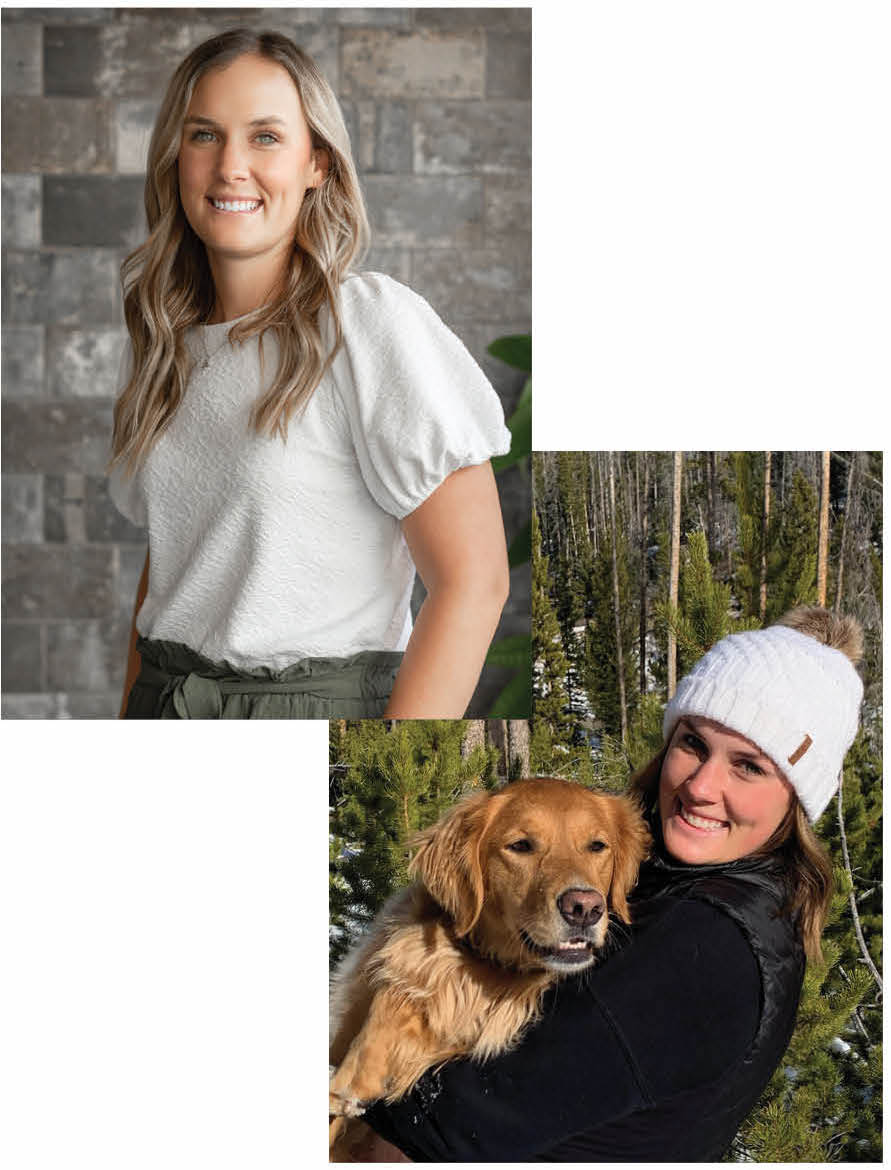 KAYLEE SIMKINS
Client Associate
Please help us welcome the newest addition to the Owen Legacy Group, Kaylee Simkins. Kaylee joined the team as a Client Associate in September 2022. She grew up just over the Continental Divide in Butte, MT, where she graduated from Butte Central in 2015 and played volleyball and basketball. She is currently on track to graduate in the spring of 2023 from MSU Billings with a bachelor's degree in business management. Kaylee has experience in various office management roles along with a strong family background in the financial industry. She has three brothers who always pushed her to do her best, and with that attitude, she encourages others to do their best as well. When not in the office, Kaylee can be found playing with her five-year-old Golden Retriever, Lucy, or hanging out with friends and exploring all Bozeman has to offer. Please introduce yourself as you stop in the office. We are excited to have her and look forward to seeing how she adds her unique talents to our team.
---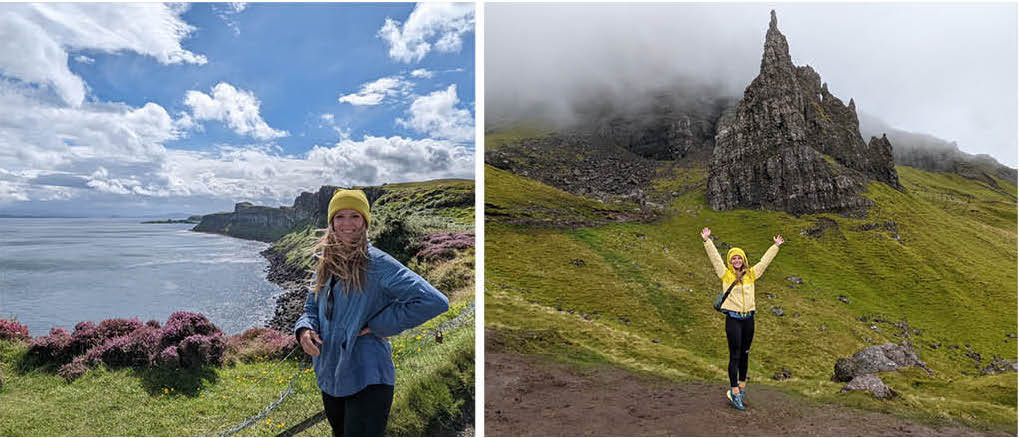 LEAH BARRETT, FPQP™
Senior Registered Associate
After planning for almost a year, Leah made a lifelong desire to visit Scotland, a reality. She and her greatest friend, Libby, arrived in Edinburgh and spent two weeks adventuring through the country. Their first four-day destination was Isle of Skye where there were countless hikes in the most majestic scenery. The Quiraing Walk was the most breathtaking of them all, with an unheard opportunity to hike without a soul in sight. Traveling east, they met up with Libby's husband, Jake, and friend, Simon, in Perth where they spent the day salmon fishing on the river Tay. From there, the four of them headed to Isle of Islay. They spent three days hiking to remote beaches and touring whiskey distilleries including Bruichladdie and Lagavullin. The last leg of their trip was Dublin where they were immersed in rich history, gorgeous hikes, and many nights ending with live music and Irish beer at the historic Temple Bar. After two weeks, this trip of a lifetime came to an end, but Leah is still reveling in the memories, and will for years to come.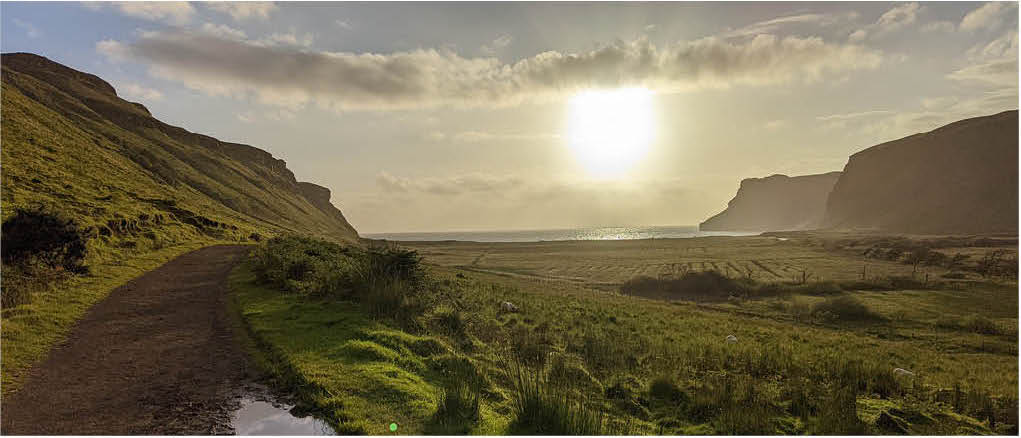 ---

MORGAN OWEN, CFP®
Senior Vice President, Financial Advisor, Portfolio Manager
Morgan, Marisa, and Oliver all had an excellent summer and start to fall. They have enjoyed hosting friends and family in Bozeman and showing them around our beautiful state. Oliver especially has enjoyed having visitors who brought kids to play with. The family has spent their weekends fishing, boating and trying to soak up as much sun as possible. One of their summer highlights was Oliver's first Digger Days! He was so excited to see and sit in some huge equipment. As the season transitions into fall, Morgan looks forward to getting out hunting with his dog, Oscar, and enjoying the last warm days before the snow starts to fly.
---

ANNE ASHTON, CFP®, CWS®
Senior Vice President, Financial Advisor, Portfolio Manager
Anne and her family had a wonderful summer full of long warm days, water balloons and many rounds of family and friends coming to visit. They spent quite a few weekends in Ennis playing in the lake and relaxing with family. Charlie (8) went to his first sleepover camp in Kalispell for a week which was a big hit. And all three children spent as many hours in the pool as they possibly could. The family felt so blessed to have a mostly smoke-free summer season and tried hard to make the best of it. Morgan and Cole played a ton of golf and came in second place at Riversides Member/Member golf tournament and in their golf league. All in all, everyone is glad to be back in school and into the routine that accompanies fall.
---

CARRIE MCALEER, FPQP™, CWS®
Senior Registered Associate
The McAleer's summer months were filled to the brim with gardening, afternoons at the park, long walks to feed the ducks, and plenty of time at the neighborhood creek! The family mostly stayed close to home, but enjoyed a weekend in Coeur d'Alene with family, and an afternoon out on the lake with friends. Carrie's two brothers and their families came to Bozeman for an extended family reunion, and Brody soaked up as much time as possible with his older cousins. In early August, the family joined the rest of the Owen Legacy Group for a wonderful weekend on Ennis Lake—complete with boat rides, laughter, sunshine, and swimming. At the end of August, Brody celebrated his second birthday with a small family party, complete with a new play tent and a fun-fetti cake. Brody is warming to the idea of his baby brother or sister arriving in December, and starting to help Mom prepare for the newest addition.
---

BRENDA KITTO, CFP®, CWS®
Vice President, Portfolio Manager, Assistant Branch Manager
Brenda has had a busy start to fall with volleyball as the leading commitment of her time. Her middle daughter, Jenna, is playing for the Bozeman Hawks volleyball team, and her youngest, Kate, is now playing with the Big Sky Volleyball Club. Brenda also recently enjoyed the high school homecoming scene again, as Jenna attended with several of her friends. When not watching a game, or shuttling her children, Brenda has been frantically helping stain trim to finish off the main level of the house. Fall is one of her favorite times of year, and she is already looking forward to a few work trips, as well as family gatherings for the holidays.